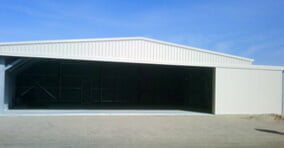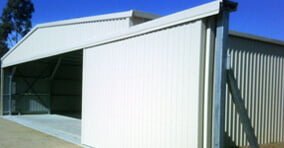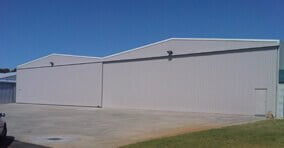 Action Sheds Australia Custom Designed Aircraft Hangar Kits
Action Sheds Australia has a large range of aircraft hangars available via our Perth office. Our hangar design potential is limitless, ranging in scope from a small one bay helicopter hangar to a large commercial aircraft hangar. Big or small, your aircraft hangar can be customised to suit any applications. We can design any size door opening to suit your aircraft.
The sliding doors feature standard openings or we can include outriggers to create large door openings with remote motorized doors. You can choose options like mezzanine floors to create double story offices, or storage on top with offices underneath. You can even design the hangar with a dividing wall to create a double hangar under one roof.
Warranty
10 Year Structural Warranty
15 Year Cladding Warranty
All aircraft hangars are built to the highest possible industry standards and are Shed Safe approved.
We Deliver Australia-Wide
Action Sheds in Perth can arrange for your hanger to be built and delivered direct to your site, hassle free.
View our full range of industrial and commercial sheds and buildings here.