A practical and eye-catching addition to your home
Best price guaranteed
Fast, friendly service
Specialist knowledge from the patio experts
Installations available
Update your outdoor living area with a modern look and feel while reaping the benefits of a Gable Patio design! The longstanding popularity of the Gable Patio is associated with its pitched roof – a charming design, but also a very practical choice when it comes to weather resistance.
Don't wait for the summer months to enjoy sitting outdoors – a few simple changes to your outdoor living area can turn this scarcely used space into a year-round entertaining or dining area! Begin the transformation with our Gable Patios.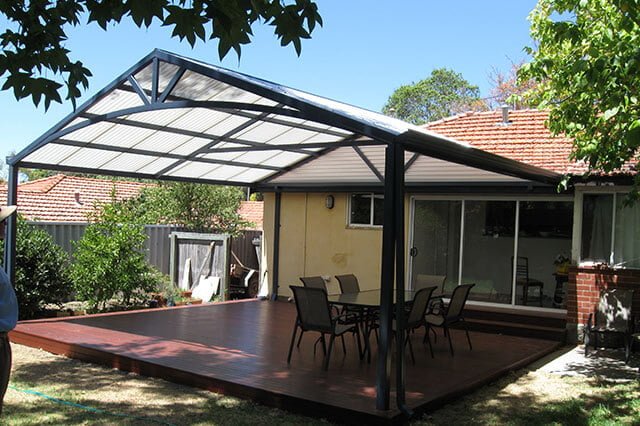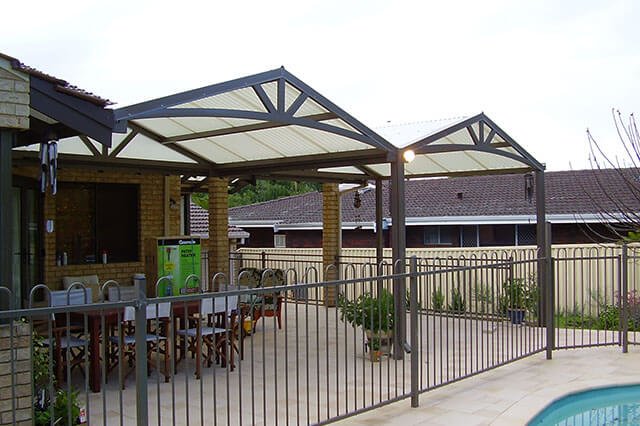 Key benefits of gable patios
Weather resistant
We are blessed with fantastic weather here in Australia – most of the time – but the Gable Patio design will have you covered all of the time! The pitched roof allows rain to run off without affecting anyone in the sheltered space. While the open sides create an airy, open-plan feel, ensuring you're protected from all of the elements while enjoying the great outdoors!
Increase the value of your home
By extending the amount of livable space in your home while adding functionality and style to your outdoor living area, a well-installed Gable Patio can significantly increase the value of your home. Reach the full potential of your outdoor area by having our friendly staff advise on the best solution for you, before installing your Gable Patio from start to finish!
Comfort meets style
The Gable Patio offers all the comfort of a sheltered outdoor living area with the stylish peaked roof design featuring sleek lines. For those seeking a practical, affordable and modern way to include additional space in the home, the Gable Patio is an excellent choice.
Action Sheds Service
We know that every customer has different needs, which is why our clients love our tailored service so much! We can show you how to maximise the potential of your outdoor living area with a Gable Patio, by having one of our friendly staff members guide you through the whole process, from the initial scope to final installation. Alternatively, our patios are easy to assemble thanks to our custom made kits, and we are only a phone call away if you need assistance at any point!
We Deliver Throughout WA
We can arrange for your patio to be delivered direct to your site.
While you're here, why not take a look at our great range of sheds for Perth, carports, Colorbond garages and Colorbond workshops for your home?