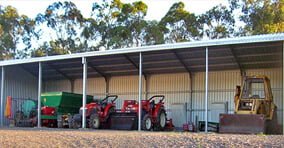 Open Front Machinery Shed 30x15x6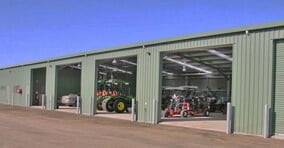 Machinery Shed 24x15x6
Custom Designed Machinery Sheds
Agricultural, cultivation, and farming machinery and equipment are valuable assets. To extend the life of your assets, it is vital that you can store them away from the harsh Australian elements.
Action Sheds Australia offers numerous options in machinery shed kits, providing a functional steel building with vast flexibility and customisation, designed to protect expensive farm machinery and equipment from weather damage resulting from wind, sun, or rain. Our sheds are designed to stand up to Western Australia's weather.
Action Sheds Australia machinery sheds can be designed with large open-front, individual bays or with multiple bays, with a wide open span that makes parking even your largest farm machinery easier. They can be fully clad and can include roller doors with remotes, dividing walls, personal access doors, skylights, full security, and more.
All of our machinery sheds at Action Sheds Australia are built to the highest industry standards. They come with a 10-year structural warranty, 15-year cladding warranty, and the standard BlueScope guarantee. For the walls, roof and trim, you can choose either ZINCALUME or one of the COLORBOND® steel cladding colours.
Structurally, the hay storage is constructed to meet the demands of the rural WA Australia environment. Our sheds will stand the test of time through the use of materials such as BlueScope steel.
Our kits are designed to meet the most current Australian engineering standards and they are built to the highest possible industry standards. Every shed comes with an Engineer's Certificate of Compliance. Action Sheds Australia sheds can be constructed to the size that meets your needs.
The machinery sheds come in ZINCALUME® or one of the many colours available in COLORBOND® steel cladding. All come with the standard BlueScope guarantee.
Warranty
10 Year Structural Warranty
15 Year Cladding Warranty
All Machinery Sheds are built to the highest possible industry standards and are Shed Safe approved.
We Deliver Australia-Wide
We can arrange for your machinery shed to be delivered and built anywhere in Australia.