Finding the Perfect Industrial Shed
Many companies involved in heavy industry, particularly, some of the mining facilities near Perth, use industrial sheds to house their equipment and more. They are necessary buildings to have when you have a lot of heavy machinery and items such as mined ore, which requires storage.
However, for each company and usage bears the question:  What would be the best kind of shed to get for them? The variety of different jobs for a shed like this are as various as the companies themselves that need them.
Luckily, we at Action Sheds Australia have it covered, with our selection of industrial sheds and customisable options. We start with a few standard models and you can modify them from there.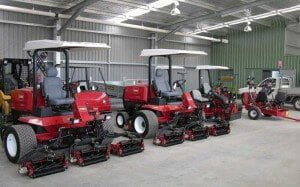 The first in our line-up is called The MINER. This is one of our more basic models and features a 10-ton gantry beams. It is fully clad in the metal of any colour you would like and offers 2400mm Dado walls if you choose.
The CONTRACTOR is very similar, except that it features a second storey inside. This is good for some businesses because you can store things on the first floor and put offices to oversee everything on the second floor.
Another model  we produce is called The JACKSON; it has all the trappings of the first two with full Dado walls. This is best for those that need both protection and more space.
The most interesting feature about our industrial and machinery sheds is that we both fully customise it to fit your ideals and we deliver throughout WA and beyond.
If you want your shed built to specific dimensions, you can just send us those and we can build you a shed that matches. When it comes to colours, we can design your sheds as well with any and multiple colours at once from our extensive Colourbound palette.
In addition, we will deliver the kit for your unit anywhere you'd like–even on site. From there you can either build it yourself or our friendly crew can assemble it for you. Either way, you could have the perfect industrial shed to suit your needs.
For more information about our industrial sheds and ordering, please call 1300 778 628.