The Advantages to Wind Locks on Roller Doors
If you have a lot of items and don't have enough space to keep them all, storage sheds may be exactly what you need for your Perth home. Storage sheds are the perfect storage solution for your backyard and can also be combined with garages, as many of your Perth neighbours have done.
If you decide to have us erect a shed, then you obviously want the safest and most secure. Some quality sheds have roller doors that you can build up with optional extras. If you opt for such add-ons, our wind locks can be a great addition to any kind of shed with roller doors.
What is a Wind Lock?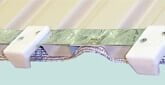 A wind lock, as used in the building of sheds, is a small metal device that attaches itself to the doors of the shed. Its primary function is to reduce the amount of friction that occurs between the actual door and the guiding panel.
When the wind is strong, the roller door may be dislodged, bent or misaligned from the guide. These instances can affect the function of your structure. With a wind lock, your door can operate efficiently despite wind load or pressure.
The Benefits
Wind Protection
Wind locks are useful additions to any outbuilding or garage as they protect the roller door from the long term damage wind can have on its opening function. In Perth, they are often used on sheds as well, giving the units a more professional look.
Wind locks are easy to add on to any existing plan, making them a smart investment. To learn more about how to include these onto your next shed, please call 1300 778 628.