The Best Garage to Protect your Car and Belongings
Everyone at some point needs a place to house their car and provide extra space. While some storage sheds are better than others, the best kind of garage to fulfill this purpose would be the one designed personally by you. And that's exactly what we offer.
Specialising in sheds and garages in WA and throughout the country, we know that the perfect garage is exactly what you need to keep your car clean and your goods organised. We start off with a few basic models and you fill in the rest with what you think is best.
The first model is the simplest one and features just a single door and lock. This is perfect for storage of only a limited number of things, or just one car. Although usually small in size, since the dimensions are in your hands, it can be bigger to accommodate a bigger vehicle.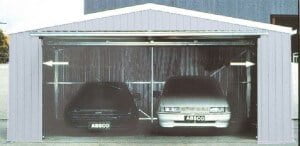 If you'd like something slightly more elaborate, we also have the same type of garage with two rolling doors rather than one. This makes organisation a little easier because you could park a car on one side and store on the other, or even pull two cars in while balancing the storage. Three door models are also available for the full package of storage and mobility.
The last category stands in a class of itself and features a single sliding door, rather than the rolling doors popular in residential garages. More so used as heavier machinery sheds, these are useful in agricultural and mining centres in WA. That way, larger machines and extra storage can be housed inside and plenty of storage can be had for the needs of the industry.
Capitalising on the concept of customisation, a number of extra features can be added to enhance your garage. To allow some natural light into your work area, skylights and windows can be installed. Extra ventilation and insulation can be used to regulate the internal temperature. Every door can also be equipped with a remote-controlled opener to allow you and your family members to more easily pull their car in and out. The important thing is that your car and belongings stay safe and convenience is yours.
For more information about our garage options, call us at 1300 778 628.