Picking Your Colours Can Be Fun With Our 3D Colour Designer
One of the more fun features for many on our website is the 3D Colour Designer feature, affectionately known as the "Colour Picker." The Colour Picker allows you to customise any shed you purchase from us with your own colours, from the vast expanse of the outside walls to the relatively small down pipe.
 To use the Colour Picker, simply go to our Colour Picker page, then click the picture of the model shed you would like to purchase. You'll have your choice between eight different sheds: arena, industrial commercial building, farm, domestic cable roller door shed, domestic skillion shed, barn, domestic gable sliding door shed, or carport gable roof.
For our example, we will click onto the barn. You will notice a drawing of a barn, with eight palettes of colours below the drawing; each palette contains 20 colours. The palates are labelled with eight different building parts: windows, exterior wall, gable end caping, down pipe, roof, PA door, gutter, and roller doors.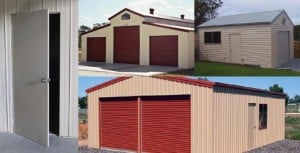 It's really easy. All you do is choose a colour for whichever part of the building is listed above the palette, and click on it. You will see the feature turn into the colour that you chose. Find any colour you like, and move on to the next feature. After you have completed all eight, you will now have a drawing of your barn, but in the custom colours that you have chosen.
Feel free to tweak the colours all you want; take as long as you need. What's important is that you get the colours exactly the way you want them. Whether you choose to order the barn and erect it yourself, or have us erect it for you, the parts will appear in the custom colours that you have chosen.
If you like, you can have your eight different features done in eight different colours. Or, you can choose to decorate in one or two basic colours. Whichever colours you may choose, your shed will be distinctively and uniquely yours, according to your own taste and your own vision.
Call us today at 1300 778 628 for more information, or for a free estimate. We are a ShedSafe accredited company, and we specialise in great customer service.